Discover the power of a Simple Path that leads to mastery of your health, vitality and happiness in just 5 minutes a day
If you are looking for a simple, direct and effective way of living a healthy and wealthy life – in just 5 minutes a day. Then congratulations, you just found one.
Let me explain :
We have all had times in our lives when we have felt helpless in the hands of destiny. We feel disorientated, unable to control the direction our life is taking. Everything we begin seems to fall apart. Nothing seems right in life – family, friends, relationships, career, circumstances….
What if I told you that there is a very simple system which you can use to get back into the driver's seat of your life? Yes, not rituals, not astrology, not gurus; the solution lies within YOU.
View the trailer here:
What are my workshops about:
POWER – Thats what this workshop is all about
Sticking with a time tested ancient system makes it easier for you to develop the POWER within you. And as you'll discover in the workshop, its these ancient techniques combined with Quantum mechanics develop your skills and understanding, of harnessing the POWER within you.
The beauty of this workshop is it allows any person regardless of age, race, religion, gender, economic background and social status master the POWER.
The only requirements are a desire to learn and change and follow simple instructions. That's it.
Look Everyone has this POWER, all you need is guidance on how to use it.
Healing and Spirituality are inextricably linked – you start along the path of one, you are already half-way along the path of the other.
Healing cannot be mastered in a week, with a certificate, it is a life-long endeavor, which can be truly mastered only when one starts incorporating spiritual principles into everyday living.
A true healer is one who has healed himself first before setting out to heal the world.
In my workshops, I teach you to connect the dots – how to use universal principles of healing for spiritual evolution based on Quantum Mechanics and Epigenetics. The ability to heal others from physical, psychological and spiritual dis-eases is just a by-product.
"This has been a life changing experience! I know now that YOU CREATE YOUR OWN REALITY!!" – Award winning fashion photographer, Shehtab Khan, Hyderabad workshop participant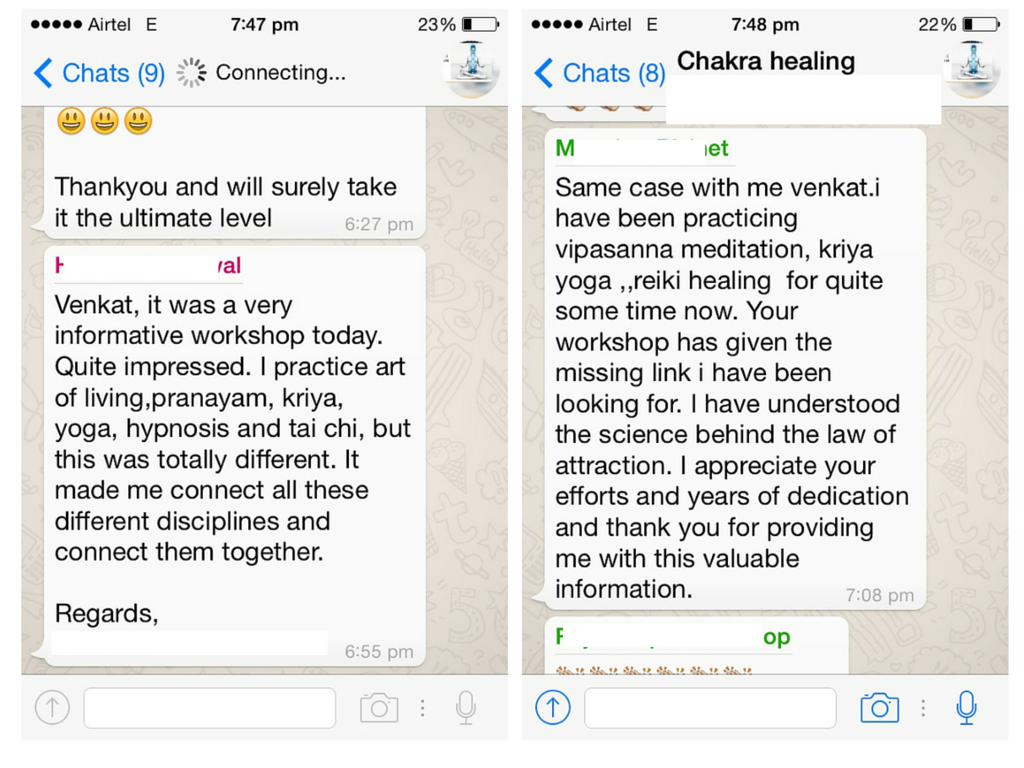 "Thank you, thank you, thank you, everyday I feel like thanking you for what you have given me" – Bangalore workshop participant
The tools you will be given in my workshops, can be used to improve any area of your life – be it your material needs of family, relationships, career, finances and health or your spiritual quest.
Believe me, I've been part of the corporate world for over 15 years and have used these principles to grow and evolve both professionally and personally. I retired as Head-Operations in a leading retail chain to pursue my dream of empowering people towards excelling in their lives.
"I owe gratitude to my mentor and guru Venkat sir as my profession is soaring new heights after the chakra-healing workshop. Nothing is impossible! Thank you Venkat sir" – Hyderabad workshop participant
In my workshop, you will see how your Chakras influence your energy system, in turn influencing your behaviour, character-traits and the situations you attract into your life.
You will learn the simple laws of the universe proven by science, using which you can literally, create every moment of your life exactly the way you want it! This workshop will change your perception of life.
"Sir, I realize that you are like GOD, salute to you. Really, Chakra-Healing is a powerful instrument for any human being. Many many thanks Venkat sir" – Pune workshop participant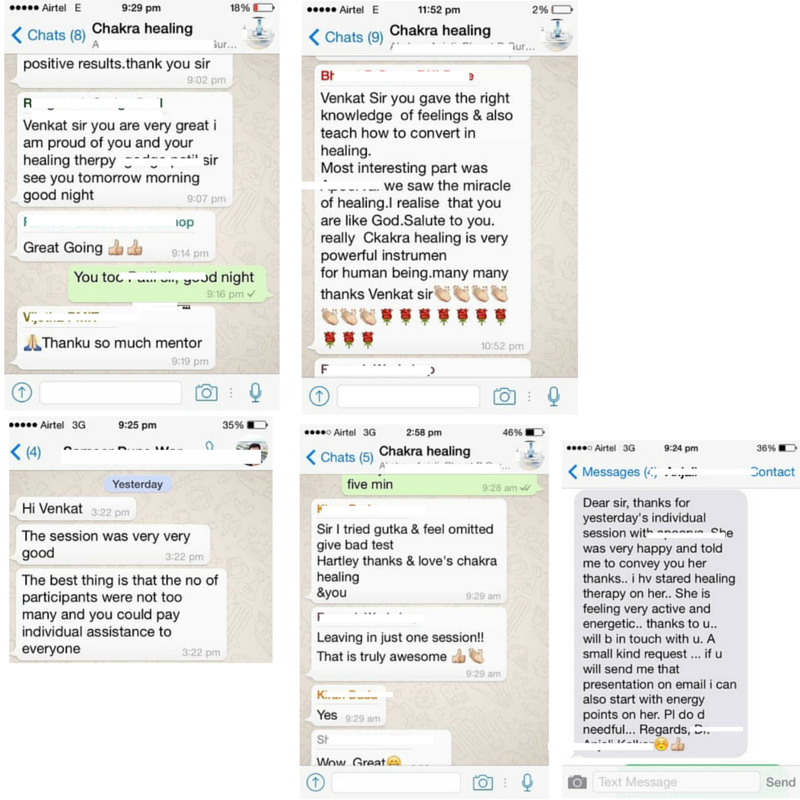 You will learn:
The basics first –
Ø- Quantum mechanics and energy healing
Ø- What are Chakras, where they are located, how they influence a person's physical, mental and spiritual health and well-being
Ø-To feel the shape and size of the chakras and diagnose which chakra is overactive, under-active, strong or weak.
Advanced concepts –
Ø- How the sub-conscious mind works. How is it related to your Chakras?
Ø- Various ways and means of healing yourself and others. Which healing technique works best for what kind of problem.
Ø – How to turn your Yearly Income in to monthly Income
Ø – How to create the future of your choice
Ø – How to use parallel universes for healing and other manifestations
Ø – How to change our past and thereby influence our present and future
Ø – A paradigm shift in what you have always believed to be true
A word of caution: Be prepared to have your understanding of life, your beliefs, changed forever… for the better!
Who can attend:
ANYONE and EVERYONE! This is a life-changing event that you do not want to miss.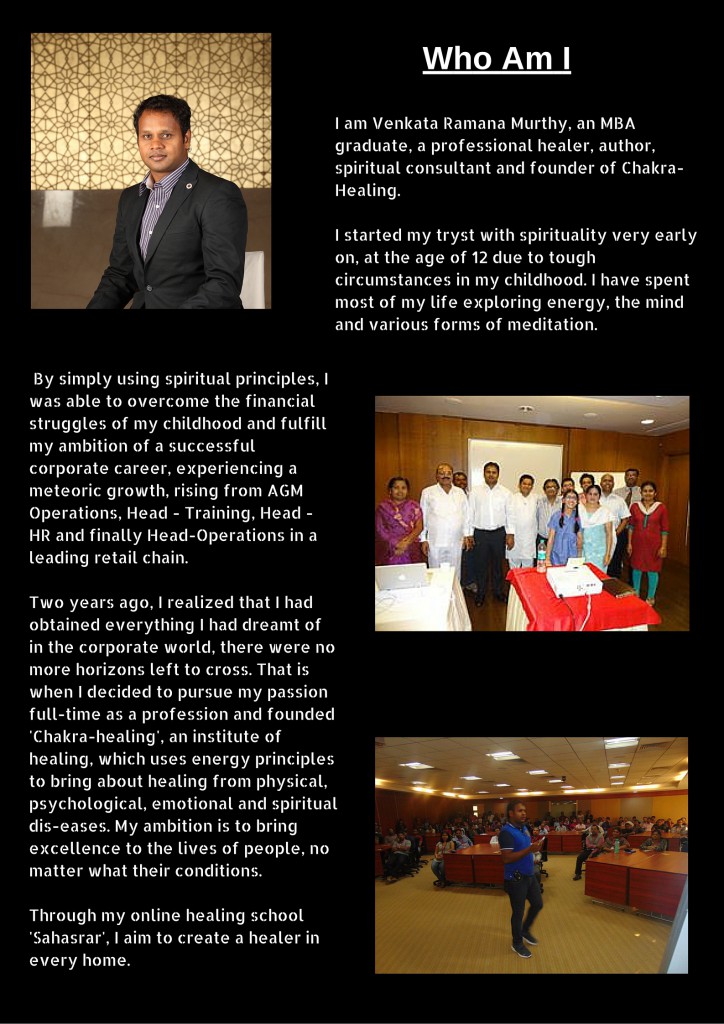 I have recently authored the book "How Chakras Liberate you from your Karma" where I have compiled my own practical experiments and experiences into a simple hand-book which can be practiced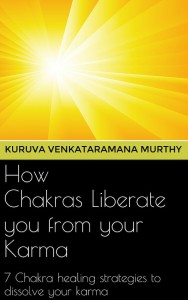 by all, from a 7-year old to a 70-year old. The kindle version was ranked #3 on Amazon for four weeks and is available here.

My contact details are as follows:
Mobile: 09177397261
Email: vkr@chakra-healing.in
Website: https://heal.chakra-healing.in/
Connect with me on Facebook and Youtube