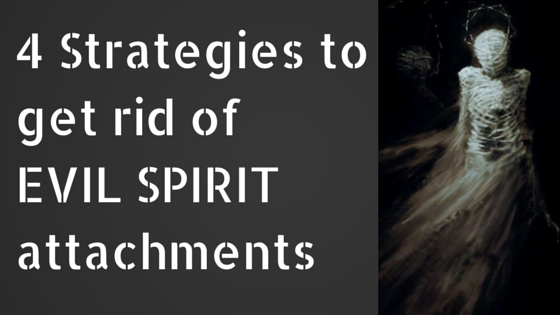 The topic of Evil spirit attachment or POSSESSION is not very popular, and SCARY also. Not popular because no one wants to speak about it, due to lack of knowledge and expertise in this domain. But when some one makes a movie on this subject, it becomes a block buster.
All of us think that, whatever is shown in the movies is what really happens to individuals who are POSSESSED. Though in extreme cases it is possible, but most of the times it doesn't happen that way.
In this post I will NOT deal with following questions :
What is an Evil Spirit?
Does Evil spirits exist?
How an Individual gets attached to evil spirits?
How do we know if the individual is POSSESSED.
Those topics will be explained in detail in a future blog post. But for now let us focus on 'HOW TO GET RID OF THEM'
There are number of ways you can get rid of these evil spirits. But personally I find the following 5  ways to be safe and EFFECTIVE.
Please follow the steps exactly as described below.
STRATEGY #1
What would you do, If an uninvited guest walks in to your house and wants to stay ? Yes, that's exactly what you will do, to the evil spirit!! Ask it to leave. Is that so simple !! Yes it is. Why?
Because most of the spirits were once human beings themselves. While it may seem silly, acting as their guide and counselling can put the spirit at ease and allows them to move on to the next level.
Also due to lack of guidance, some spirits find the wrong address and mistake that host (read body) to be their HOME. If this is the case, then when you tell the uninvited and unwanted guest that you are the BOSS, it will leave. If it doesn't, then implement…
Before you read the rest of the post, watch this CNN report
STRATEGY #2
Take a bucket full of water, expose it to sunlight for half-day or four hours minimum.
Take one packet of Rock salt or Epsom salt and dissolve in the bucket full of water
Take bath from the water everyday. During the bath scrub your body thoroughly
Repeat the above for seven days
After the seven days, the evil spirit has no choice but to leave because the evil spirit cannot stay, where energy is purified. You can do this step otherwise also, your energy body will thank you. Because SALT has the capacity to break down energy blocks and sunlight charges the water with SOLAR PRANA.
In 77% of the cases, the evil spirit will detach itself and leave. But What if the evil spirit doesn't leave even after implementing the above method, then…
STRATEGY #3
Close your eyes, inhale for 6 sec, hold for 3 sec, exhale for 6 sec, hold for 3 sec
That's one set
Repeat this pattern for 12 sets
As you breathe..
Now Visualise yourself, surrounded by white light
Imagine a sword in your mind
Bring that sword in front of your stomach, while surrounded by white light
Imagine the evil spirit, in any shape or form
Swipe the sword in front of your stomach, as if you are cutting a cord or thread connecting that shape or form
Surround the shape or form and your solar plexus or stomach area again with white light.
Continue this for a week, three times a day.
This is a very powerful meditation, which if done as described above, will drive away the evil spirit 90% of the time. But What if the evil spirit doesn't leave even after implementing the above method, then…
STRATEGY #4
Often you will find that, you won't be able to implement the above strategies. As the person possessed will have reached a difficult situation, Just like those hollywood movies.
In such cases, the safest and easiest way is to call me on 09177397261 because you need an expert to handle such really EVIL spirits.
As a spiritual healer, you will encounter many challenges and demands, whether you are just starting  or experienced healer, Sometimes it is better to seek expert help saving you lot of TIME, MONEY and a LIFE.
What do you think? Have you used any of these strategies?
How have they helped you? What helpful tools can you share? 
Please leave your comments below.
What's your reaction?
11
Cool
1
Bad
2
Happy
2
Sad